.
065)
Hypnotize a Tiger: Poems About Just About Everything
by Calef Brown, finished December 29
These are charming and amusing poems and I like how the margins are pulled into the game, and I have no qualms about recommending it to your kids or mine.

But:

Everytime I read a book like this I'm struck by how rare is the genius of a Lewis Carroll or a Shel Silverstein. What the did was not easy. Even the very best poets working for kids rarely approach their heights.

So yeah, read this book, but not at the expense of the masters.
afternoon into evening
===========================================================
064)
Cruising Through the Louvre
by David Prudhomme, finished December 25
The surface of the book was about the Louve and makes cheesy comments about universality or something.

But the images of the book aren't making blase claims. They are showing the universal timelessness of art and humanity by simply placing them side by side.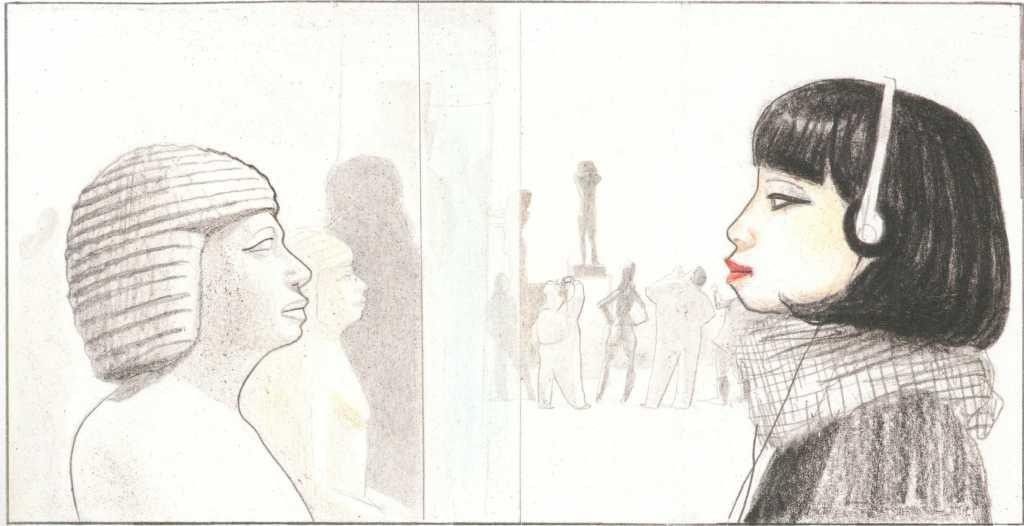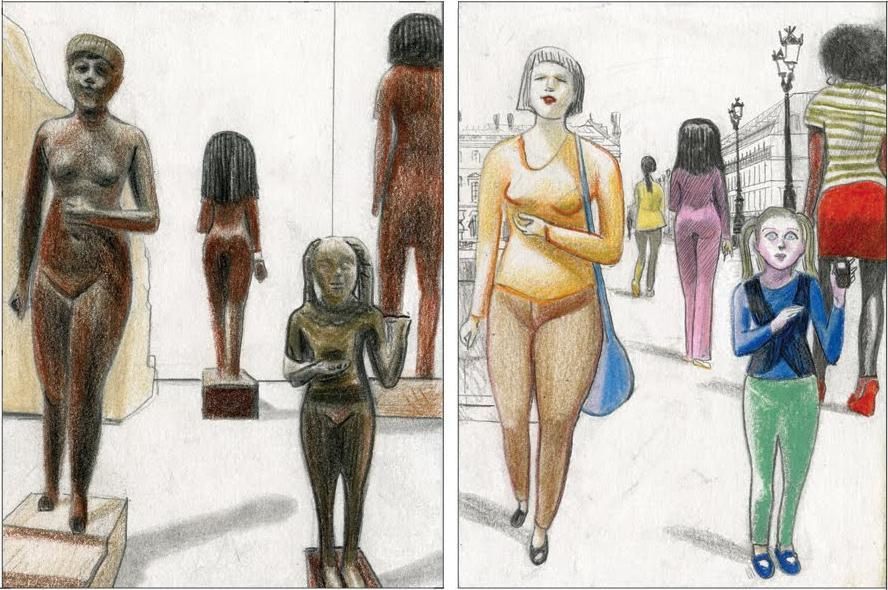 while lady steed nursed
===========================================================
063)
The Unbeatable Squirrel Girl Beats Up the Marvel Universe
by Ryan North and Erica Henderson, finished December 3
Ryan North is a very funny man. These books are almost unbearably clever and I laugh often.

This graphic novel version of Squirrel Girl manages to play the same games the comics do, but with the added layer of its ambiguous villain come from the good guys rather than the bad guys. It's scattered all over the Marvel Universe, but always focused on moving things forward. It's astonishing, really, how the words go simultaneously everywhere and just where they should.
past bedtime
===========================================================
062)
La Jetée: ciné-roman
by Chris Marker, finished November 28
I was subbing in the former photography teacher's room today, and as the kids worked on their animation projects, I read this book.




It's a photo-essay---or photofiction, I suppose---made of the same material of the famous-but-I'd-never-heard-of-it minifeature.

Just photos and accompanying writing, just as the film is just photos and narration.

It was a simple but fascinating piece of work. Lovely and disconcerting. Worth looking at once. I guess I'll watch the film as well, but only because I'm curious. It seems like it will be identical, but apparently the film's been a pretty big deal over the years.
under an hour
Previously in 2016
54 – 57
061) Bad Kitty for President by Nick Bruel, finished November 27
060) The Sculptor by Scott McCloud, finished November 26
059) Thurber by Burton Bernstein, finished November 21
058) The Complete Peanuts 1997 to 1998 by Charles M. Schulz, finished November 19
ASIDE
54 – 57
057) Slaughterhouse-Five by Kurt Vonnegut, finished November 17
056) Paco by Nathan Thatcher, finished November 3
055) The Complete Peanuts 1995-1996 by Charles M. Schulz, finished October 18
054) "K" Is for Killer by Sue Grafton, finished October 17
48 – 53
053) Girl & Flame by Melissa Reddish, finished September 30?
052) The Garden of Enid: Adventures of a Weird Mormon Girl, Part Two by Scott Hales, finished September 29
051) The Garden of Enid: Adventures of a Weird Mormon Girl, Part One by Scott Hales, finished September 29
050) The Making of Pride and Prejudice by Susie Conklin and Sue Birtwistle, finished September 28
049) Only What's Necessary: Charles M. Schulz and the Art of Peanuts by Chip Kidd, finished September 24
048) J is for Judgment by Sue Grafton, finished September 16
42 – 47
047) Jumpers by Tom Stoppard, finished September 6
046) Dark Watch and other Mormon-American stories by Williams Morris, finished September 5
044) Pariah Missouri: The Promised Land by Andres Salazar and Jose Pescador, finished August 29
043) Pariah Missouri: Answering the Call by Andres Salazar and Jose Pescador, finished August 28
042) "I" is for Innocent by Sue Grafton, finished August 25
38 – 41
041) The Devil Is Due in Dreary by David Parkin and Allan Jefferson, finished August 19
040) No Country for Old Men by Cormac McCarthy, finished August 1
039) Lady Killer by Jamie S. Rich & Joelle Jones & Laura Allred, finished July 30
038) Tribute to Sparky, finished July 25
34 – 37
037) Winesburg, Ohio by Sherwood Anderson, finished July 22
036) UR by Stephen King, finished July 20
035) Fante Bukowski by Noah Van Sciver, finished July 13
034) "H" Is for Homicide by Sue Grafton, finished July 12
31 – 33
033) Isaiah: Prophet, Seer, and Poet by Victor L. Ludlow , finished July 5
032) Sistering by Jennifer Quist, finished July 1
031) Sayanora Slam by Naomi Hirahara, finished June 6
26 – 30
030) Sunny Side Up by Jennifer L. Holm and Matthew Holm, finished May 30
029) Best American Comics 2015 edited by Jonathan Lethem, finished May 30
028) G Is for Gumshoe by Sue Grafton, finished May 21
027) The Unbeatable Squirrel Girl Vol. 2: Squirrel You Know It's True by Ryan North & Erica Henderson, finished May 20
026) "F" Is for Fugitive by Sue Grafton, finished May 12
19 – 25
025) Soldier Dog by Sam Angus, finished May 6
024) Baba Yaga's Assistant by Marika McCoola and Emily Carroll, finished May 1
023) The Unbeatable Squirrel Girl Vol. 1: Squirrel Power by Ryan North and Erica Henderson, finished April 30
022) Little Robot by Ben Hatke, finished April 26
021) What We See When We Read by Peter Mendelsun, finished April 26
020) Roller Girl by Victoria Jamieson, finished April 23
019) The Only Child by Guojing, finished maybe April 21
15 – 18
018) 77 Love Sonnets by Garrison Keillor, finished April 21
017) Fidelity by Grace Paley, finished April 20
016) The Jam Jar Lifeboat & Other Novelties Exposed by Kay Ryan, finished April 15
015) Work & Days by Tess Taylor, finished April 1
11 – 14
014) The Little World of Liz Climo by Liz Climo, finished March 29
013) Forgive me, I Meant to Do It by Gail Carson Levine, finished March 26
012) Fences by August Wilson, finished c. March 14
011) The Life and Times of the Thunderbolt Kid by Bill Bryson, finished March 19
10
010) Folk of the Fringe by Orson Scott Card, finished March 9
5 – 9
009) The Naked Soul of Iceberg Slim by Robert Beck, finished February 29
008) Half Moon Investigations by Eoin Colfer, finished Feb 20
007) Bless this Mouse by Lois Lowry, finished February 16
006) Dendo by Brittany Long Olsen, finished February 14
005) Dream House on Golan Drive by David G. Pace, finished February 5
1 – 4
004) Mormon Shorts, Vol I by Scott Hales, finished January 23
003) Shirt in Heaven by Jean Valentine, finished January 18
002) Eleanor & Park by Rainbow Rowell, finished January 14
001) Spy School by Stuart Gibbs, finished January 9